Established in 1989, Weldgen is located in Taichung Hsien, Taiwan and reformed to Weldgen Enterprise Co., Ltd in 1981. We specialized in the field of professional Tig, Semi-automatic CO2/ Mig and Plasma Welding & Cut; besides, we also devoted to provide our customers the most suitable welding machines. We distributed welding machines for foreign brands in the early period; then, we imported and being the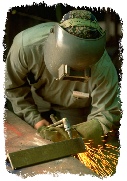 agent of foreign brands. Theses years we have our own brand, WELDGEN, and developed Inv Tig and Inv Air Plasma Cut.
Weldgen experts in technology, effort sales and best service. We also try our best to understand buyers' needs to reach the goal of customers' satisfactory. We also devote in developing new welding machines and relevant products. To make the customers to buy the complete equipment they need, we have an alliance cooperation relationship with many related manufacturers. You may get what you need about welding machines from Weldgen, which is our target.
維駿行
於1989年設立於台中縣,並於1981年改制為維駿行企業有限公司,期間一直專業於氬焊機(Tig)、半自動焊機( CO2/Mig)、電離子切割機及焊接機(Plasma Welding & Cut)之領域,並以提供客戶最適用的焊機為職志。從初期為一區域經銷商到自行引進代理國外焊機,並自創威勁品牌之變頻式氬焊機(Inv Tig)及變頻式電離子切割機 (Inv Air Plasma Cut)。
本公司長期以來均以技術見長,並從事第一線行銷及售後服務,深切了解客戶多樣化的需求,為滿足客戶一次購足的希望,近年除了不斷的開發新的焊接機及週邊產品,並與多家相關廠商策略聯盟。我們的最終目標【只要與焊接有關,找維駿行就搞定】